Hiland has a long tradition of a strong Youth Ministry. We are passionate about providing a safe place for our young people to grow in their faith and as individuals. We accomplish this through a focus on healthy relationships and sharing the love of Christ with each other and the world.
S.H.O.E. Medical/Permission Form 2017-18
Services for Students and Families
stry? Contact Chad Johnson, Director of Youth and Young Adult Ministries at hilandchad@gmail.com
REGULAR ACTIVITIES
All gatherings/activities are for students from 7th – 12th grade unless noted otherwise.

SOMA for youth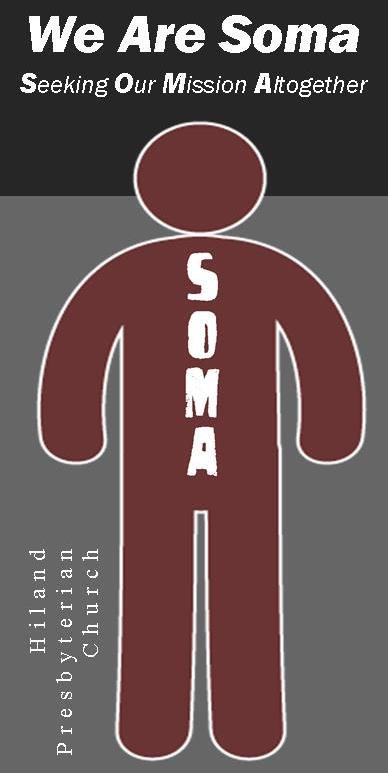 We have created an all-encompassing program that will fulfill our needs of discipleship, education, community service, fellowship and fun! On Wednesday evenings starting on September 27th we will meet for dinner together at 6pm in Fellowship Hall. From 6:45 – 8pm we will have our S.H.O.E. programing which will be Bible study, games, activities, discussions, and many other ways to explore our faith together and with friends we might bring. These gatherings are going to be filled with people and are designed to bring the entire congregation and the community together. We are calling it SOMA which is Greek for body.
These programs will be in 4 week chunks. On the "off weeks" in between we will have one service or outreach event such as Lock Ins, volunteer at World Vision, Laser Storm, bowling, and other fun events! Again this will offer flexibility in your own very busy schedules and allow you to bring friends to events as well. On the "off-week" Wednesdays, we will have Open Youth Room from 3:30-5PM in the youth room.
By gathering to eat together, exploring our faith together, and building relationships through fellowship and fun, we will continue to build a community that grows in faith and service to each other. Our Wednesday evening gatherings will be designed to be bring-a-friend friendly and allow for our community to grow.
Youth Schedule
6-6:30 PM…Dinner
6:30-6:45 PM…Dinner Clean Up
6:45-8 PM…S.H.O.E.
8 PM…Pick Up!
ANNUAL EVENTS
There are several annual events that are designed to embody the foundations that our youth program is built on. Our Dinner Theater Production usually in early spring and our Work Camp trip which usually occurs in late June.
Dinner Theater – Our Youth put on an annual Dinner Theater performance to raise money for our Work Camp. These productions have always proven to be successful on many levels. We always have a nice turnout from the community who receive a good meal and a fun show. Our students grow much closer and gain confidence in themselves and each other by working together to serve and entertain the community. The support for the Youth Ministry at Hiland grows during this time as the Hiland family pulls together to share their love and experiences with the youth as the production is pulled together.
Work Camp – Our senior high students (anyone who has completed 8th grade -12th grade) have the opportunity to participate in our Work Camp. We try to do something different each year whether it be location, or type of service. The point is to spend a week together in service to the Kingdom. This event is a "pinnacle event" in many of our student's faith journeys and lives. The students and leaders experience much growth through working side by side to serve others, worshiping together, and many other built-in growth experiences. One aspect of work camp that is often overlooked because of all of the "growth" is that it is just plain fun to go on these trips and work alongside each other.
Middle School Mission Trip – This is an opportunity that our Junior High students have to become exposed to mission through a program we have put together that immerses the students into several different types of mission. In past years, we have served with World Vision, Greater Pittsburgh Food Bank, the Red Cross, City Rescue Mission, Pittsburgh Project, Cumberland Vista, and Shenango on the Green to name a few. This program has proven to be a great time for the students who participate.
LIVING THE FAITH
We have several activities that we participate in that are excellent in helping our students develop a sense of personal enrichment – regular participation in local mission agencies, retreats focused on spiritual growth, and leadership conferences. We always try to look for new opportunities for our students to encounter new faith experiences. Below are some of the regular opportunities we encourage students to participate in.
Pleasant Valley Shelter – We travel to the North Side of Pittsburgh once every other month to serve dinner to gentlemen staying at the Pleasant Valley Shelter. This provides an opportunity for our youth to work together while encountering the truth of other people's difficult circumstances. Many of our students have had real attitude-changing experiences through this wonderful opportunity to serve.
North Hills Back Pack Initiative – The Backpack Initiative helps West View Elementary families in need of weekend food for their children. At the end of the week each child will receive a bag we packed right here with child-friendly, single-serving snacks and easily prepared meals. There is something for everyone to do!!! We need packers, delivery people and food donations.
Trinity Youth Conference (TYC) – is a week-long event for high school youth (who are at least 15 years of age and have completed 9th grade by the July deadline) and college-age young adults. TYC focuses on spiritual and leadership development, discipleship, and evangelism through daily worship, small group activities, and various workshops with topics based on the theme. http://www.trinityyouthconference.org/
New Wilmington Mission Conference (NWMC) – is a mission focused conference for all ages held on the Campus of Westminster College. NWMC looks to deepen the missionary spirit and seeks to live out the Great Commission. Here mission interpretation meets the duty and ideal of proclaiming the gospel to all the world and making disciples of all peoples through worship, education, and hands-on service. http://nwmcmission.org/
Relationship Building – Along with all of our faith building experiences we are deliberate in modeling behavior that encourages our young people to support each other in their school and extracurricular activities. Many of our volunteer leaders are regulars at school plays, musicals, concerts, sporting events, etc. We also encourage students to support each other by going to these events and cheering each other on. This helps to build relationships and break down barriers that might otherwise remain due to cliques and stereotypes. We really try to love each other!