We've made a new commitment to ensure that the young adults of the North Hills community feel like they have a place here at Hiland also. Although many young adults face busy schedules and live in constant transit, we try to provide some refuge for them to slow down and focus on their faiths.
Questions about Young Adult Ministry? Contact Chad Johnson, Director of Youth and Young Adult Ministries at hilandchad@gmail.com
Upcoming 19North Events:
11.4.2017 – 9AM-Noon / World Vision (packing at Sewickley Dist. Ctr.)
11.25.2017 – Time TBD / Game Night
12.27.2017 – Time and Place TBD / 19North and College combined gathering
REGULAR ACTIVITIES
19North – is a growing group of young adults who have regular gatherings every 2nd & 4th Thursday of the month. We meet to discuss life, challenges facing the world, scripture, and where we fit into all of it. We also seek to serve the community through service projects and sharing our gifts and talents. Staying connected to our faith and community are essential to providing stability and a social outlet that allows us to be accepted for who we are and where we are at in life. If you have any questions regarding 19 North please contact Chad Johnson in the church office.
College Visits – Because our young adults are often too busy to break away from the college campus for an extended period of time, our Director of Young Adult Ministries makes it a point to visit as many of our college students as he can on campus regularly.
Care Packages – Every fall we send our Young Adults a box of goodies and necessities to them at their colleges, military bases, and/or residences to let them know that their Hiland family supports them and prays for their success.
SOMA for Young Adults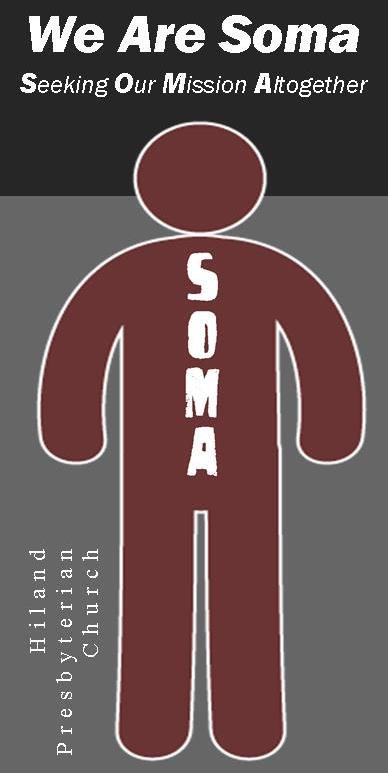 The education opportunities we offer to our adults during our midweek program will challenge them to go further, asking them to contemplate essential questions: Who is God? Who am I? What am I called to do? Each week, our texts will parallel those discussed by the children and youth. That way, everyone can discuss the same subjects from their own point of view. To give young adults/adults every opportunity to attend, we will offer the same program 5-5:45 PM and again at 7-7:45 PM. Attend whichever suits your schedule best. Child Care for children up to 3 years old is available from 5-6PM and 7-8PM.
Young Adult/Adult Schedule
5-5:45 PM…Discipleship Discovery
6-6:30 PM…Dinner
6:30-6:45 PM…Dinner Clean up
6:45-7:30PM…Discipleship Discovery (Repeat of earlier session)