Hiland has BUNDLED your favorite activities into one program:
Sunday School
Adult Ed.
Fellowship Opportunities
Youth Group
Christian Education
Service Opportunities
SOMA is not like our previous mid-week programs!
SOMA is a series of 4-week studies with a 2-week break in between that offers you the opportunity to enjoy a fellowship/family event and a service/outreach opportunity.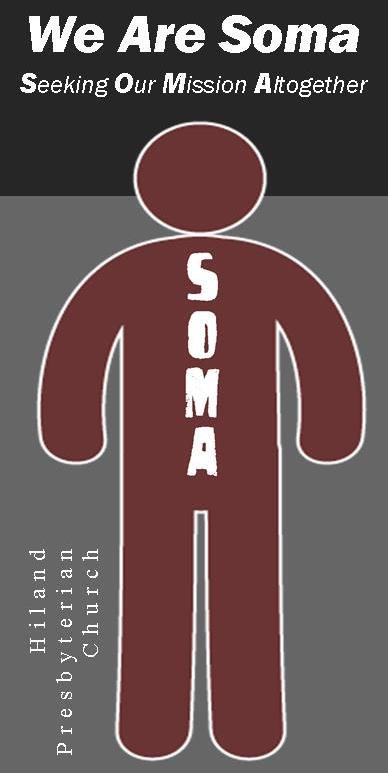 Welcome to SOMA! Hiland Staff and Leadership are excited to introduce this new midweek DISCIPLESHIP discovery series for all ages.
As people of faith, we are lifelong learners. We are called to deepen our understanding of God through discipleship, study and reflection of God's Word. Not only does this enrich our experience of faith, but it also equips us to share and model it to others. As parents and family, neighbors and friends, we can best witness to others as we intentionally grapple with stories and lessons the Bible teaches. We are excited about the connections that will be made—one to another, and each of us to Christ.
Yes, we are meeting Wednesday evenings to accommodate busy schedules and family time. Each 4-week session will be followed by a 2-week break that will offer a fellowship/family event and an outreach opportunity. Attending all 4 Wednesdays in a grouping are most beneficial for spiritual growth but not necessary as the classes do not build on each other. Don't think you have to miss all of them because you can't make one of them. Please contact Linda Davis if you need child care for children younger than 3 years old.
ADULTS – The education opportunities we offer to our adults during our midweek program will challenge them to go further, asking them to contemplate essential questions: Who is God? Who am I? What am I called to do? Each week, our texts will parallel those discussed by the children and youth. That way, all parents, students and friends can discuss the same subjects from their own point of view. To give adults every opportunity to attend, we will offer the same program 5-5:45 PM and again at 7-7:45 PM. Attend whichever suits your schedule best. Child Care for children up to 3 years old is available from 5-6PM and 7-8PM.
CHILDREN – For the children 3 years old – 4th grade, the evening is broken into 15 minute segments to work within their attention spans. The children will sing a song they learn at SOMA during the Sunday morning worship following each 4-week interval. Child Care for children up to 3 years old is available from 5-6PM and 7-8PM.
TWEENERS – Our Tweeners, 5th and 6th graders, will be helpers/leaders for the children's program during this time frame. Service and leadership will be their focus as they grow as individuals and in their faith. The Tweeners will benefit from the lessons as they help lead and will begin to gain a foundation for church leadership.
YOUTH – The Youth, grades 7-12, portion of the SOMA evening will combine discipleship discovery and S.H.O.E. fellowship by integrating scripture and study into fellowship activities with the intent of encouraging the youth to attend the whole evening and ensure a comprehensive growth in their faith.
Soma Wednesday Night Schedule:
Adult
5-5:45 PM…Discipleship Discovery
6-6:30 PM…Dinner
6:30-6:45 PM…Dinner Clean up
6:45-7:30PM…Discipleship Discovery
Children/Tweeners
5-5:15 PM…Recreation/Free Play
5:15-5:30 PM…Bible Story
5:30-5:45 PM…Craft
5:45-6 PM…Music
6-6:30 PM…Dinner
6:30-6:45 PM…Closing/Send Off
Youth
6-6:30 PM…Dinner
6:30-6:45 PM…Dinner Clean up
6:45-8 PM…S.H.O.E.
8 PM…Pick Up!
Schedule*
1/3…SOMA
1/10…SOMA
1/17…SOMA
1/24…SOMA
*dates subject to change