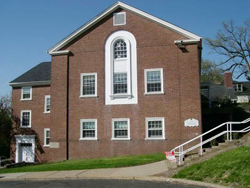 Hiland Child Care Center was one of the first centers in the North Hills Area to receive NAEYC Accreditation. This was an accomplishment that was achieved in June of 1991 and one we will strive to continue to maintain. Hiland supports the definition and criteria that comprise the high quality standards that NAEYC set forth for Early Childhood programs.
Hiland was also one of the only school age programs in the area to obtain Accreditation from the National School Age Program. This was accomplished in February of 2005.
Hiland also supports the Pennsylvania Keystone Star Program. All of these accomplishments have been achieved by having a supportive Board of Directors, a committed and professional staff and supportive families. We emphasize the importance of on going professional development, employee benefits, communication with families, assessment and support of children and a happy, healthy, safe environment.
Find out more about Hiland Child Care Center by visiting the child care center's website www.hilandchildcare.org.
To contact the Child Care directly, call 412-367-4550.