Hiland's Child Protection Policy
Hiland is dedicated to providing a safe and welcoming environment for children as they learn and grow in faith. We offer many opportunities for kids to learn about God's ultimate love such as Children and Worship, SOMA, the annual Easter Eggstravaganza, and Vacation Bible School. To learn more about specific future activities, contact Linda Davis, Director of Children's Ministries.
SOMA Practice Songs:
Click the link below to play an audio file of the songs the SOMA children will sing at worship on the Sunday following each 4-week session.
October 22nd – The Body Song
December 3rd – How Beautiful
Children's Worship

Children and Worship (September – May) – Children 3 years old — 4th grade ( 3 & 4 year-olds must be attending a preschool program) will leave after the Children's Sermon to go to the Worship Room in the Balcony area of the Library.
In the Worship Room we walk more slowly and talk more softly because someone might be talking to God and we don't want to disturb them. We sing and pray to create a worship atmosphere. Using colorful underlays and hand made wooden figures, the Worship Leader tell the Bible stories in a peaceful atmosphere. The Greeter not only welcomes the children, but helps them during response time. Children respond to the Bible story using art and craft materials. Our ultimate goal with Children & Worship is to prepare our children to fully participate in the congregational worship service. All children, therefore are always welcome in worship.
There will be no Children & Worship on the first Sunday of the month so that children can join their families for communion.
SOMA for Children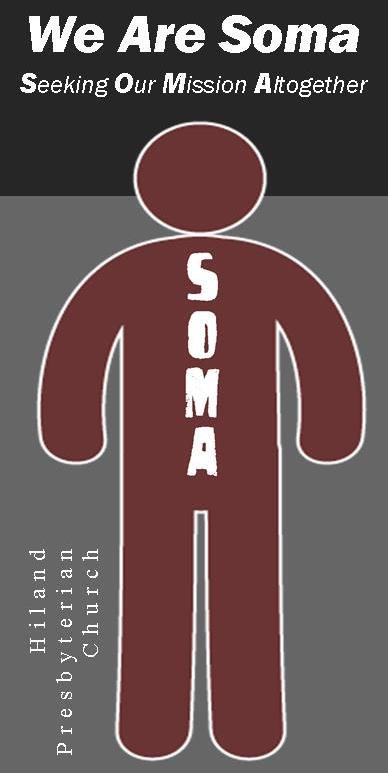 We kick-off on September 13th with a picnic to introduce the program. Then on September 27th, we will begin at 5PM. Adults, youth and children will all be studying the same Scripture passages at the same time. We will learn and grow together, share a meal together and learn what it means to be the Body of Christ together.
At SOMA, the children will have music, games, a bible story and craft. They will join the youth and adults for dinner from 6-6:45PM and then gather in the Parlor to reflect on the day and share some prayer time before going home. We will be collecting for our World Vision Malawi children in the children's and adult SOMA groups.
Evening Schedule
5:00 PM…Recreation/Free Play
5:15 PM…Bible Story
5:30 PM…Craft
5:45 PM…Music
6-6:30 PM…Dinner
6:30 PM…Closing/Send Off
To see how the children's schedule fits in with the adults and older kids check out our SOMA page.