At Hiland, we strive to create varied opportunities for adult fellowship and study.
Ways to Get Involved
Every program and ministry we offer needs volunteers to make it successful and the more volunteers the better. Check out our ministry pages and our hands on mission projects. If you have a passion for something we aren't doing, discuss it with the Pastor or leadership. We are here to help you discover and share your God-given gifts and his call on your life.
Hiland Women's Winter Retreat at Camp Crestfield – January 26-28, 2018
Ladies—for a few days we let go of our worries about home or work and focus on spiritual things with a weekend of meaningful Christian fellowship, love, friendship, prayer, and learning. Our speaker this year will be Rev Rebecca DePoe, temporary solo pastor at Mt. Nebo United Presbyterian Church in Sewickley, PA. She comes highly recommended by Ben Robbins. We hope to welcome many new faces at this retreat so we are freezing prices, and offering a discount for first-time attendees. As always, part or full scholarships are available. The retreat is open to all women, so feel free to invite your friends and family to come. Can't get away overnight? Come for the day on Saturday!
REGISTRATION INFO: Click here to register. All registrations and payment are due by January 9, 2018. Make check payable to "Hiland Presbyterian Church" and note "Women's Retreat" on the memo line and mail to Hiland Presbyterian Church, 845 Perry Highway, Pittsburgh, PA 15229.
COST (Additional donations of any amount are appreciated.)
Early Birds Discount – Register by Friday, December 18, 2017: Double: $130.00 / Triple: $120.00
Regular Price – Register between December 19, 2017—January 9, 2018: Double: $145.00 / Triple: $135.00
First-time Attendee: $75.00
Saturday Only: $30 (covers lunch and event fee only) Please plan to arrive by 8:45 a.m. Saturday to be in time for the first session.
If you have any questions, contact Polly Stehle at stehle_159@yahoo.com. Note: There is full or partial scholarship money available. Please don't hesitate to contact Polly Stehle. Your request will be kept confidential. It brings us joy to have you at the retreat, and to use the Susan Lee Memorial Fund to make that happen.
SOMA (Seeking Our Mission Altogether) for adult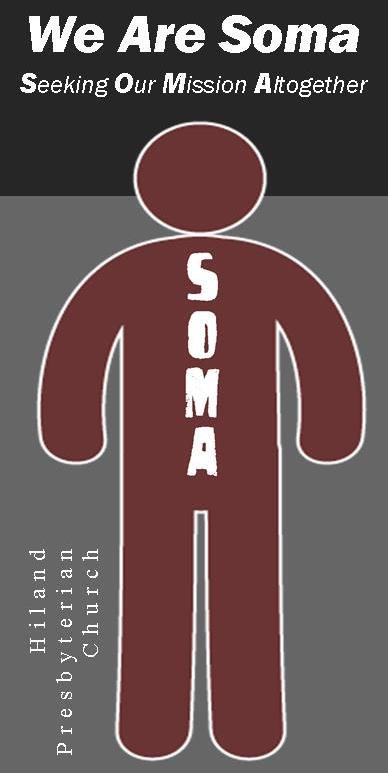 As people of faith, we are lifelong learners. We are called to deepen our understanding of God through discipleship, study and reflection of God's Word. Not only does this enrich our experience of faith, but it also equips us to share and model it to others. As parents and family, neighbors and friends, we can best witness to others as we intentionally grapple with stories and lessons the Bible teaches. We are excited about the connections that will be made—one to another, and each of us to Christ.
Wednesday September 13th will be our first day of the new programming so we are having a kick-off celebration to introduce you to the new schedule. Each 4-week session will be followed by a 2-week break that will offer a fellowship/family event and an outreach opportunity.
The education opportunities we offer to our adults during our midweek program will challenge them to go further, asking them to contemplate essential questions: Who is God? Who am I? What am I called to do? Each week, our texts will parallel those discussed by the children and youth. That way, all parents, students and friends can discuss the same subjects from their own point of view. To give adults every opportunity to attend, we will offer the same program 5-5:45 PM and again at 7-7:45 PM. Attend whichever suits your schedule best. Child Care for children up to 3 years old is available from 5-6PM and 7-8PM. To see how the adult schedule fits in with the children's and youth schedules, check out our SOMA page.
Adult Schedule
5-5:45 PM…Discipleship Discovery
6-6:30 PM…Dinner
6:30-6:45 PM…Dinner Clean up
6:45-7:30PM…Discipleship Discovery (Repeat of earlier session)