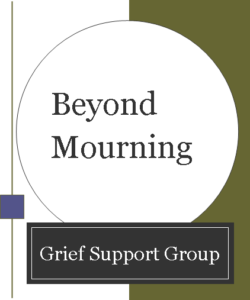 Grieving the lost of a loved one? You don't have to go through it alone!
A grief support group for those dealing with the death of a loved one. Beyond Mourning is open and inclusive no matter your beliefs, worldview, or religion. Our goal is to provide a firm foundation of practical wisdom and emotional support to you during this difficult time in your life.
What is Beyond Mourning?
A weekly eight-session peer support group which combines grief education, activity, and peer support into each session
What are Beyond Mourning's goals?
To provide the tools grieving people need to navigate their own unique grief experience through education and peer support.
What you'll find at a Beyond Mourning group?
Empathy and Comfort
Support and Acceptance
Grief and Coping Skills Education
The Weekly Sessions
Group building and the grief process
Review of grief's common physical, behavioral, cognitive, emotional and spiritual/philosophical reactions
Looking at what to expect during the grieving process and developing a plan
Preserving the memories and dealing with loved one's material belongings
Dealing with the anger, sadness, and loneliness as time goes by
Preparing for holidays and special days
Looking at what to expect in the future, what it means to move on and exploring the new normal
Finding hope and making plans for the future
Beyond Mourning will be starting the last week in September. More details will be published the last week of August.